Personalized Birthday Balloons - Custom Printed Balloons For Birthday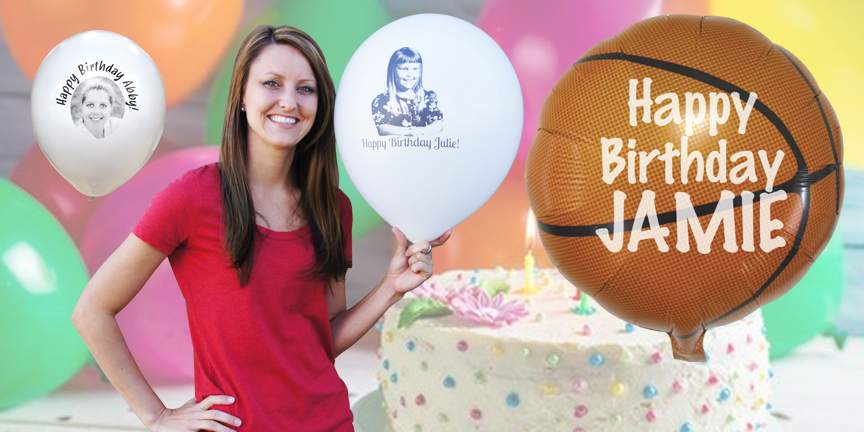 Showing all 6 results

Planning a birthday party around a theme or favorite color? Our personalized birthday balloons are available in a large assortment of sizes, colors and shades.
Choose from metallic, neon, pearlized, standard or decorator balloon colors to tie your birthday party together and add a festive touch to the event space.
When the birthday celebration is over, give them to your guests as a party favor to take home. No clean up and no waste!
Personalized birthday balloons are an easy, affordable and unique addition to your loved one's special day and are available with same or next day delivery. Make the party memorable with personalized birthday balloons customized with your unique message or image!
Children aren't the only ones who enjoy custom printed birthday balloons. Highlight a milestone birthday with a photo printed on the balloon of the special guest as a young child and add a touch of entertainment and humor for the entire party to enjoy. You can even add a special birthday message to your custom printed balloon in addition to the photo for an especially customized touch.
These personalized birthday balloons will make a birthday party livelier while also making the birthday boy or girl feel like you've gone the extra mile for them on their special day.
Birthday balloons with a photo of the birthday person printed on them! Dad's birthday? Send in his photo and get some custom birthday balloons made! Child's birthday? Send in a photo and have personalized birthday balloons printed with their picture on them.
Lots of fun for Over-the-Hill birthday parties! Send in a baby picture for cute and fun custom birthday balloons!
Print a message on both sides of your custom printed birthday balloons or just one side. (Extra charge for second side printing)