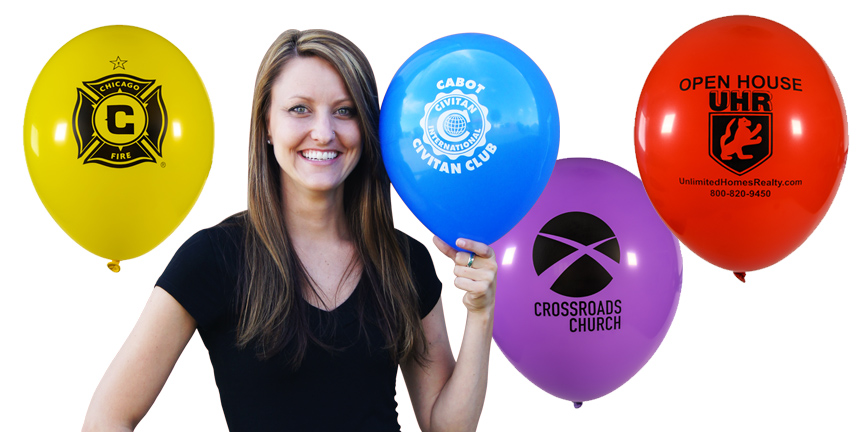 Logo Balloons – Advertising and Promotion with Logo Balloons
Inflatable advertising balloons with your company logo printed on them are attractive and inexpensive and deliver the message effectively. Order your custom balloons with logo printed on them to use as open house balloons, special promotions and trade show balloons or custom print the balloons with any unique advertising message from Balloons Tomorrow and get fast delivery and always free setup and proofs. Choose from a variety of colors and sizes for your logo balloons!
What makes our logo advertising balloons the best?
Our logo advertising balloons have thicker walls, brighter colors and better printing!
This is a much higher quality logo balloon which means it lasts longer, floats longer and the logo print looks much sharper!
Attract even more attention with our giant logo advertising balloons! These custom jumbo balloons come in three feet, five feet, and seven feet. Nothing like a super large custom printed balloon advertisement to attract attention with your advertising and marketing!
Create your logo balloons at Balloons Tomorrow quickly and easily using our online ordering process or call us by phone. We offer only high quality logo advertising balloons, in mylar (often called foil balloons) and 100% natural, biodegradable latex. Balloons printed with your logo make great advertising!
Why should you use promotional logo balloons to advertise with?
Logo advertising balloons are an affordable, cost effective way to deliver your message, create brand recognition, attract attention, and turn heads.
Logo advertising balloons can increase sales and visibility traffic for your business. We not only offer regular shaped logo balloons, we also sell mylar heart, round, stars, and even sports shapes like footballs and soccer balls any of which make a great logo balloon advertisement.