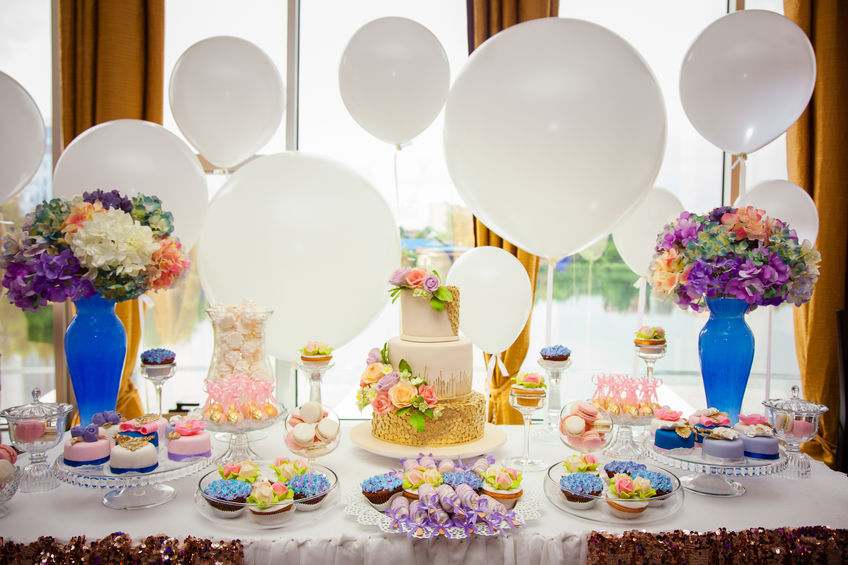 One of the best signs of a fun party is balloons! As adults, one of the biggest parties that we will ever have is our wedding day. That's why you should make sure that balloons are present in your wedding décor.
Whether it's for an engagement party, bridal shower, wedding reception, or all of the above, try using these unique ways to incorporate balloons into your wedding décor:
Incorporate a Balloon Arch
Over the past few years, balloon arches have become a very popular party décor trend. Luckily, there are quite a few ways to incorporate a balloon arch into your wedding festivities.
Traditional Entrance Arch
There is no better way to say "I do" than in front of a balloon arch. You can even customize and coordinate your balloon colors to reflect your wedding theme. Add floral arrangements to each side of the arch for additional pops of colors and elegant touch.
Adding an Arch to the Head Table
When you enter your reception, you're going to want your head table to stand out from the others. Adding a balloon arch to use as a backdrop is a great way to ensure that your guests will recognize your table.
Incorporate Balloons in Your Seating Charts
A fun wedding décor trend that your guests will be sure to love is attaching a balloon to their seating name card. Just tie their name card to the balloon, pop a table number on the back of the card, and you're good to go! Once your guests find their seats, each table will be beautifully decorated with balloons.
You can even get creative and assign each table a specific color, or you can include customized balloons with your special wedding date or a picture of the happy couple.
Non-Traditional Centerpieces
If you want your wedding reception to be different from the rest, try swapping your floral centerpieces for balloons! You can still add decorative vases and greenery but replace the flowers with white latex balloons for an elegant and simple look.
Custom Balloons for Your Wedding Décor
Do you need custom balloons for your wedding décor? Make sure you're contacting the professionals at Balloons Tomorrow. We have a wide variety of custom balloon styles, sizes, and colors for you to choose from.
Don't forget to give us a call at 800-343-4347 to learn more about our selection!